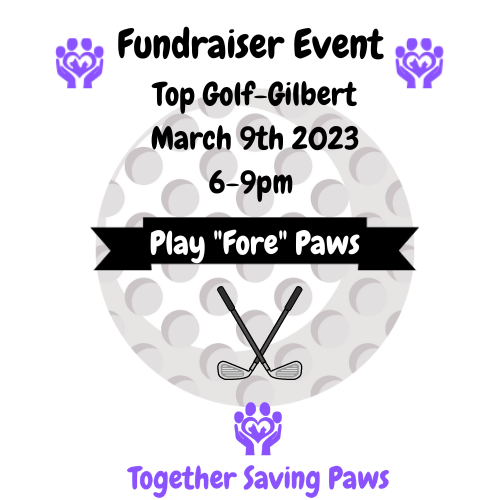 March 9th 2023 from 6-9PM at TopGolf-Gilbert
Come join us for a fun event with golf, food, games, raffles and prizes to benefit Together Saving Paws a non-profit 501(c)(3).
Together Saving Paws helps find rescue dogs that then are trained to become emotional support animals. We then place the dog with survivors of human trafficking (saving 2 souls at a time). This process can cost anywhere from $500-$1500 per placement. We cover adoption fees the rescue may charge, food while in the care of the trainer & any vet bills (before they are placed).
We also help keep Operation Underground Railroad sponsored ESD K9's that are placed with law enforcement across the country safe by providing tactical vests for added protection when they are on the job. These K9's are key in the fight against human trafficking and child exploitation. Each custom vest costs $999 ($1,700 if not a non profit).
We can't make any of the above happen without your help and support.
We would love to have you join us and help spread the word and make this a great fundraiser.
Ticket Prices-
Ages 3 and under are free
$75 includes 3 hours of Golf, Food, Non-Alcoholic Beverages and games (pool table, shuffleboard, ping pong etc…)
$95 includes all of the above PLUS 2 drink tickets beer, wine or call mixed drinks
V.I.P- Additional $150 to either ticket choice above must purchase 6 tickets. You will have your own private golf bay for the full 3 hours. That means you are guaranteed all the golf you want without having to wait.
Click the ticket button enter the total ticket(s) price and be sure to add in the notes the # of tickets you purchased. (Please cover the fee if venmo & paypal so actual ticket price is the amount donated)